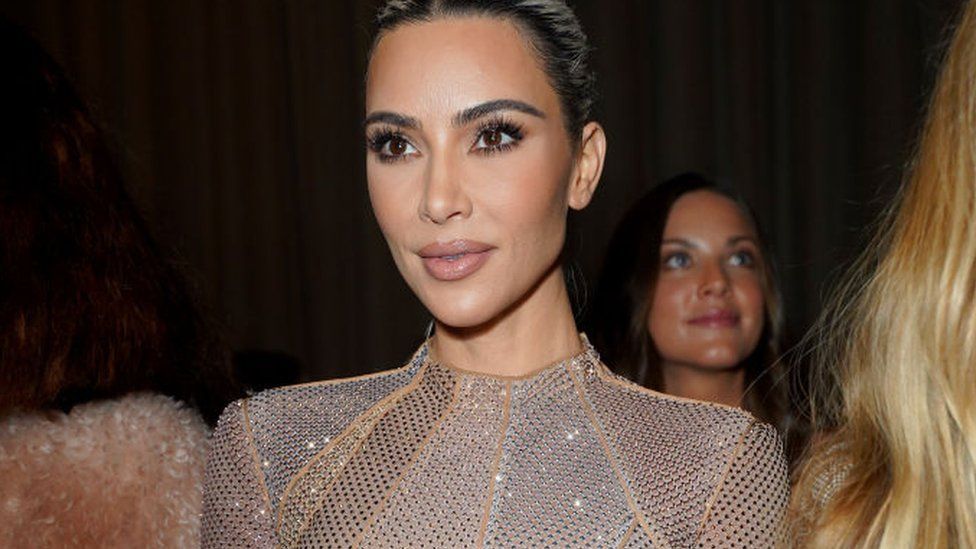 Kim Kardashian has agreed to pay a $1.26m (£1.12m) fine for advertising EthereumMax on her Instagram page.
The US Securities and Exchange Commission said the reality TV star had received $250,000 for advertising the cryptocurrency, without disclosing she had been paid to do so.
She also agreed not to promote crypto asset securities for three years.
Her lawyer told BBC News: "Ms Kardashian is pleased to have resolved this matter with the SEC."
The lawyer said: "Kardashian fully cooperated with the SEC from the very beginning and she remains willing to do whatever she can to assist the SEC in this matter.
"She wanted to get this matter behind her to avoid a protracted dispute.
"The agreement she reached with the SEC allows her to do that so that she can move forward with her many different business pursuits."
The legal action alleged they had collaborated to "misleadingly promote and sell" the cryptocurrency in a "pump and dump" scheme designed to inflate the price before selling to investors.
EthereumMax disputed the allegations at the time.
In spite of its name, EthereumMax has no legal or business connection with the Ethereum cryptocurrency.
Anyone can create a crypto coin.
All you need is a few pounds, a YouTube tutorial and a funky name.
This month alone, dozens of new tokens will be launched, with creators promising their coin will be the next big thing.
With little intrinsic value to the product, marketing is key – and as in many modern industries, celebrities can be the make or break.
EthereumMax put a huge amount of money into snapping up celebrities such as Kim Kardashian – and at first, it seemed to be working out.
But as with many crypto coins, the fall was as dramatic as the rise.
Even if EthereumMax had retained the value it gained after the celebrity pump, regulators both in the US and UK were extremely uncomfortable about the marketing of the coin.
The crypto industry is still largely unregulated – but Kim Kardashian joins a growing list of people and companies being punished for promoting these highly risky products.
'Highly speculative'
Gary Gensler, who chairs the SEC, called the case a "reminder" celebrity endorsement did not necessarily make a product worth investing in.
"Ms Kardashian's case also serves as a reminder to celebrities and others that the law requires them to disclose to the public when and how much they are paid to promote investing in securities," he said.
Later, in a YouTube video about crypto investment, he added: "Celebrity endorsements… don't mean that an investment product is right for you or even, frankly, that it's legitimate.
"Even if a celebrity endorsement is genuine, each investment has its own risk and opportunities.
"When it comes to crypto, remember many of these are highly speculative assets.
"You may be wondering if it's right for you or even if it might be a scam."