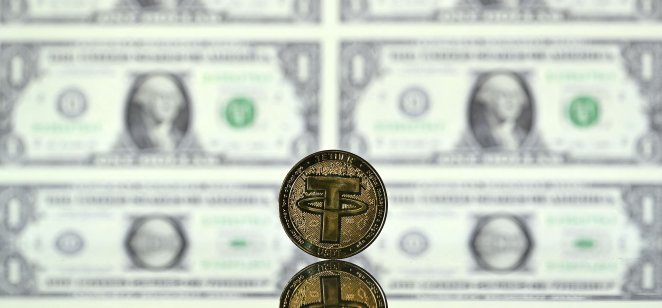 Tether (USDT) has completely removed all commercial paper from its reserves and replaced them with US Treasury bills (T-bills), which it said would increase "trust" in the stablecoin.        
Tether said the move was part of its "ongoing efforts to increase transparency", as it demonstrater USDT's commitment to "backing its tokens with the most secure reserves".
The comopany said it believed the move not only creates "greater transparency and trust" for USDT but for the "entire stablecoin industry".
The stablecoin eliminated more than $30bn (£26bn) of commercial paper holdings without incurring any losses, it said, as well as increasing its direct exposure to US T-bills by more than $10bn (£8bn) in Q3.       
The stablecoin said it now believes it has a "diversified portfolio" which limits exposure to high-risk assets.
After the news, USDT was priced at $1 earlier   on14 October) according to CoinMarketCap as a stablecoin pegged to the US dollar should be.   
Varied reactions
Gabor Gurbacs, the founder of PointsVilleApp, a play to earn (P2E) app, expressed how impressed he was with the tether team and said: "The current T-bill and short-term fixed income portfolio backing USDT reserves looks less risky to me than most bank balance sheets."
Gurbacs is followed on Twitter by Changpeng Zhao, founder and CEO of Binance, the world's largest cryptocurrency exchange by trading volume.
However, not everyone is persuaded by the stablecoin's announcement. One Twitter user questioned the "proof" behind Tether's claims, since the part of its press release revealing that commercial paper was now at zero used a self-designed graph  to show this.
T-bills are seen as a trusted and safe investment, as they are backed by the full faith and credit of the US government, which has never defaulted on an obligation.
However, periods of high inflation do pose risks to T-bills and can reduce the attractiveness of them as an investment. At present, global economies are suffering from high inflation, with US inflation at 8.2%.
What is your sentiment on BTC/USD?
Vote to see Traders sentiment!
Tether turns eight
This news arrives shortly after USDT celebrated its eighth birthday on 7 October 2022. In its birthday announcement, Tether said that it "invented the very idea of a stablecoin eight years ago".
It wen6 on to say that "in less than a decade, stablecoins went from a proof of concept to over $100 billion of issued assets, which are used and circulated at high volumes."
After eight years the original stablecoin has a market capitalisation of $68bn (£60bn), which it compared to Amazon's valuation after eight years of $20bn (£17bn).
Lugano Plan B Forum
When Paolo Ardoino, chief technology officer of Tether and the crypto exchange Bitfinex tweeted about the stablecoin removing all commercial paper from its reserves, he reminded everyone of Tether's Lugano Plan B Forum in the same thread.
Ardoino said that on top of this news, "Lugano Plan B is approaching".
Lugano, is a city in southern Switzerland and the Lugano Plan B Forum will run from 28 to 29 October 2022.
The city announced plans to make USDT, bitcoin (BTC) and its own LVGA crypto token legal tender in March 2022.
Related reading