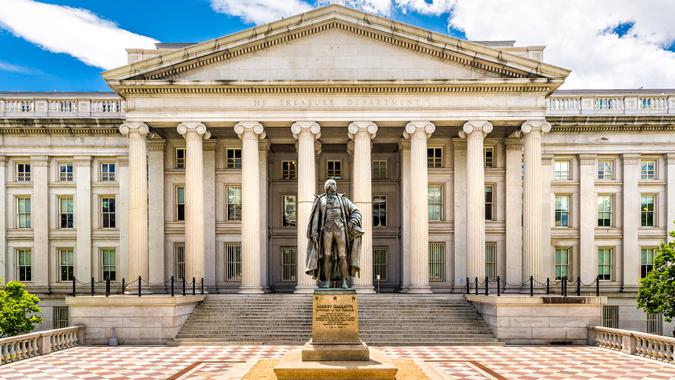 mandritoiu / Shutterstock.com
The Treasury Department fined crypto trading platform Bittrex $29 million for apparent violations of sanctions against Cuba, Ukraine-related, Iran, Sudan and Syria — representing the largest virtual currency enforcement action to date, according to a statement.
The Future of Finances: Gen Z & How They Relate to Money
Looking To Diversify in a Bear Market? Consider These 6 Alternative Investments
Bittrex agreed to pay $24.2 million to the Treasury's Office of Foreign Assets Control (OFAC) to settle its potential civil liability for 116,421 apparent violations of multiple sanctions programs, according to the department.  
"As a result of deficiencies related to Bittrex's sanctions compliance procedures, Bittrex failed to prevent persons apparently located in the Crimea region of Ukraine, Cuba, Iran, Sudan and Syria from using its platform to engage in approximately $263,451,600.13 worth of virtual currency-related transactions between March 2014 and December 2017," OFAC said in a notice.
Compliance Infrastructure a Challenge for Some
Ari Redbord, the head of legal and government affairs at blockchain intelligence company TRM Labs, said, "We have now seen a series of enforcement actions — call them the Bit-actions — against cryptocurrency businesses Bitpay, Bitgo and now Bittrex. And they are all for essentially the same thing — that is, for not having the compliance infrastructure in place to stop users in sanctioned jurisdictions such as Iran from transacting on their platforms.
"OFAC — through these actions and October 2021 guidance — has made clear that it expects businesses to have blockchain intelligence tools like TRM Labs as well as geofencing tools in order to mitigate sanctions risk."
Redbord added that one key point to remember is that this activity occurred between 2014 and 2017 — early days for crypto compliance.
"I think you would find a very different program in place today," he said.
Treasury Dept. Says Exchanges Are Accountable
OFAC Director Andrea Gacki said in a statement that when virtual currency firms fail to implement effective sanctions compliance controls, "they can become a vehicle for illicit actors that threaten U.S national security."
"Virtual currency exchanges operating worldwide should understand both who — and where — their customers are," Gacki said. "OFAC will continue to hold accountable firms, in the virtual currency industry and elsewhere, whose failure to implement appropriate controls leads to sanctions violations."
Bittrex said, "As a growing company, during the period in question, we routinely assessed and improved these functions," according to CNBC.
This latest development is part of a recent string of enforcement actions against crypto companies, notably Ethereum-based cryptocurrency mixer Tornado Cash, which OFAC sanctioned in August.
OFAC said in August that Tornado Cash "has been used to launder more than $7 billion worth of virtual currency since its creation in 2019. This includes over $455 million stolen by the Lazarus Group, a Democratic People's Republic of Korea (DPRK) state-sponsored hacking group that was sanctioned by the U.S. in 2019, in the largest known virtual currency heist to date."
More From GOBankingRates