Alchemy Pay price went vertical on Friday as cryptocurrencies bounced back following Thursday's flash crash. ACH price rose to a high of $0.016, which was the highest level since August 12. It has risen by more than 68% from the lowest level this month, giving it a market cap of over $76 million.
Alchemy Pay token rebounds
Alchemy Pay is one of the biggest blockchain companies that many people have never heard about. In February, the company raised $200 million funding in a deal that valued it at more than $10 billion. A few months before that, it had raised funds at a $3.7 billion valuation.
Its investors include LightSpeed Ventures, Andreessen Horowitz, and Panterra among others. In contrast, Coinbase, the publicly-traded company, is now valued at more than $15 billion.
Alchemy Pay operates behind the scenes, just like Amazon AWS and Microsoft Azure. It does this by providing payment solutions to other companies. These solutions are usually at the intersection of fiat currencies and cryptocurrencies.
Alchemy Pay is supported in 70 countries and supports more than 100 fiat currencies. Some of the companies it powers are Shopify, Checkout, ePay, and Pricerite among others. In addition, the company handles payments for companies like Huobi, Tron, Binance, and Tron.
Recently, Alchemy Pay introduced a product known as Ramp that makes it possible for one to buy and sell cryptocurrencies. ACH is the native token for the network. It is used to provide rewards and incentivize spending in the network.
Alchemy Pay price soared on Friday as cryptocurrency prices made a strong recovery following Thursday's flash crash. It also rose as the number of social and search rose sharply. As such, since there was no major Alchemy Pay news, there is a likelihood that traders are pumping it.
Another possible reason is that Alchemy Pay was one of the top companies to feature in this week's Token2049 event.
ACH price prediction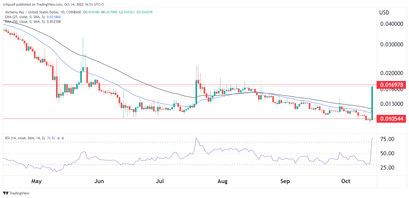 The daily chart shows that the Alchemy Pay price has been in a consolidation phase in the past few days. It then went parabolic and reached a high of $0.0169 on Friday. This was the highest level in more than a month.
As it rose, ACH price moved above the 25-day and 50-day moving averages while the Relative Strength Index (RSI) has moved to the overbought level. Therefore, while more gains are likely, we can't rule out a brief pullback during the day.