With the popularity of non-fungible tokens (NFTs) yet to cease despite an obvious downturn in the crypto markets that are also affecting NFTs, one of the first questions an interested person might ask is: how do I get my hands on an NFT?
While there are several ways to acquire an NFT, the easiest way, just as it is with regular crypto, is to go out there and buy one at platforms called NFT marketplaces.
In this Learn Crypto article, you will learn about:
NFT marketplaces and how you can buy or sell NFTs with them
The most popular types of NFTs you can buy
The best NFT marketplaces you can trade at
A broad number of NFTs are being sold every day on online NFT marketplaces such as OpenSea, GhostMarket, NBA Top Shot, Rarible, and many others. A huge stream has been seen in the market capitalization, the trading volume of crypto collectibles, and prices. So, what is exactly an NFT marketplace? An NFT marketplace can be defined as an online market where unique digital assets such as art, trading cards, or even virtual real estate can be traded. Think of it as NFT malls where sellers, buyers, and collectors meet to browse, sell, buy or exchange virtual goods.  
NFT marketplaces are thriving due to the attention they receive following record-breaking trades and prices of digital items. For example, the sales number of the biggest NFT marketplace OpenSea accelerated to $100 million in contrast to only $5 million in January 2021. Hence, if you would like to join the NFT bandwagon, an NFT marketplace is your pathway to trading digital goods. One of such a marketplace's key features is that it provides limitless expansion as it is a broad digital pool where millions of transactions take place on a daily basis.  Apart from that, NFT marketplaces are easy to work with, digitally non-traceable, and characterized by an excellent degree of functionality.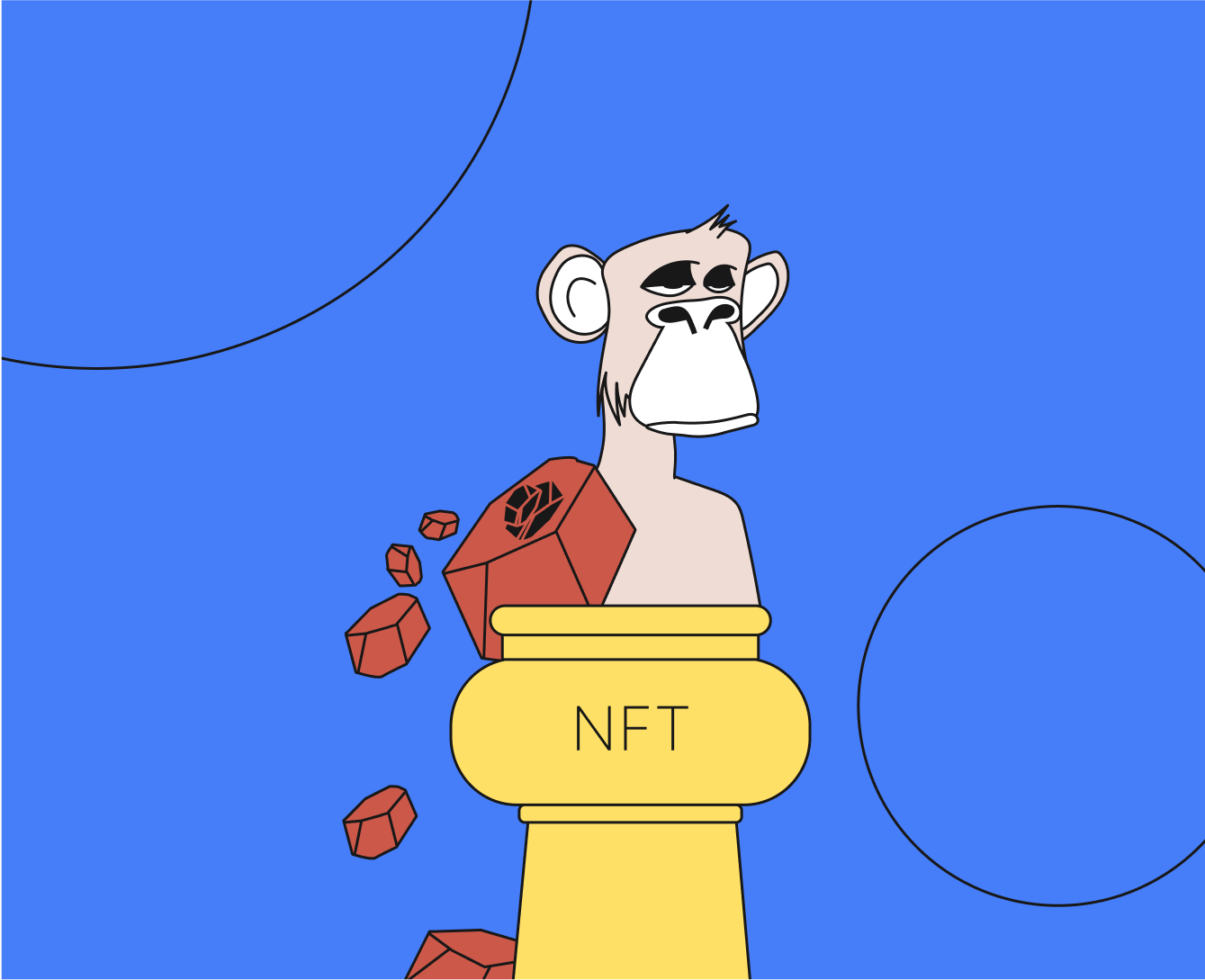 NFT marketplaces work like any other online marketplaces with the distinction that only NFTs are being traded there. Non-fungible tokens can be sold or bought at predetermined prices or through platform auctions. On the side of a client, they work just like ordinary online marketplaces, asking the customer to register and create a digital wallet. Users have to log in by making an account on the marketplace before downloading a crypto wallet that serves to store NFTs. On the side of a seller, after creating an account on the platform, the next step is to list assets by uploading goods to exhibit and putting up digital products for sale. NFT marketplaces provide options for selling, buying, or minting non-fungible tokens. In the crypto world, minting refers to creating novel tokens on the blockchain, most commonly Ethereum. 
From a technical point of view, NFT marketplaces operate on transaction protocols, namely on smart contracts. Smart contracts allow networks to stock pieces of information regarding NFT-related transactions, establish a link between the seller and the buyer, and provide other types of information regarding selling or buying tokens. Smart contracts provide proof of ownership and basically mean that a particular digital item is unique and irreplicable. Since smart contracts are self-executing, predetermined conditions must be met and verified for any action to perform. Hence, the whole process of selling and buying NFTs is safer. 
Currently, the most dominant blockchain by choice for NFTs is Ethereum. Blockchain technology has positioned itself as the next phase of a decentralized internet, permitting the execution of computer code and storing of value. Due to the ability to execute the computer code, Ethereum can be used to make safe transactions, trade cryptocurrencies, buy, sell, and store NFTs, and execute the functions of decentralized games and applications in general. 
Thus, an NFT marketplace is a blockchain-based online platform where you can buy, sell and store non-fungible tokens. In other words, the blockchain is a distributed database that stores information on NFT-related transactions on the NFT marketplace. Non-fungible tokens are stored on a public blockchain that contains pieces of information such as who created the digital asset; who bought it and at what price.  
An NFT (non-fungible token) can be defined as a digital asset characterized by its unique qualities that are held within its metadata. The expression non-fungible means that it cannot be altered, replaced, or changed in any possible way. Once an NFT has been created, it stays on the blockchain's public ledger for everyone to see. 
Non-fungible tokens give their holders ownership of the work as it encompasses a built-in authentication mechanism as proof of ownership. Even though NFTs have been present since 2014, they have gained a massive amount of popularity due to trading digital art. The NFT market was worth $41 billion in 2021, namely the amount that is close to the total value of the global art market. 
$41 billion

The worth of the NFT market in 2021 — almost on par with the total value of the global art market then.
The definition of an NFT may sound a bit unclear since basically anything can be an NFT. The technical side of non-fungible tokens allows them to spread to many divergent sectors.  
Some of the most popular types of NFTs popular currently are: 
Art is the most popular type of NFTs at the moment. Due to the pioneering expansion in the art world, non-fungible tokens gained popularity rapidly. The mere notion of NFTs was a ticket for artists to new revenue streams, sole ownership, and a huge global market. It is often mentioned that NFTs are empowering artists. 
NFTs have become a valuable alternative for musicians looking to cut out the middlemen that used to take a percentage of their profits. Namely, the music industry has been plagued for ages with complaints from artists claiming that streaming services are taking huge and unreasonable commissions. Even though the NFT music industry is still in its infancy, there might be a bright future ahead for music NFTs. 
Along with digital arts, gaming is another frontier where NFTs have gained popularity at first. Yet, companies have not been selling whole games as NFTs but in-game properties such as characters, skins, weapons, and similar in-game property items. 
Collectibles are a popular example of NFTs as well. From the rise of Cryptokitties, the NFT market exploded in terms of exchanging digital collectible items. It's no surprise that NFT marketplaces are flooded with divergent types of digital trading cards and other collectibles being sold for thousands of dollars each. 
NFTs offer fans something that may not have a real-world equivalent, namely short clips of groundbreaking events in the history of sport such as impressive touchdowns or similar memorable moments. 
Recently NFT domain names became popular such as the Ethereum Name Service or the Unstoppable Domains. Hence, you may register a domain name and sell it on the NFT marketplace. This is a good example of how these tokens are capable of rapidly spreading across diverse industries. 
Many contemporary NFT projects are focused on the tokenization of real estate to provide sellers and buyers with a higher degree of flexibility and capitalize on real-world assets such as real estate due to the cryptographic proof of ownership mechanism. 
Last but not least, you can trade memes on NFT marketplaces. Some of the most popular memes with prices between $30.000 and $770.000 are, for example, Disaster Girl, Nyan Cat, Bad Luck Brian, and other listed memes. The most expensive meme that has been sold on an NFT marketplace is the Doge meme with its impressive purchasing price of $4 million.
To illustrate the market power of NFTs, here is a short list of best-selling NFTs in the digital world so far according to their purchasing value: 
Everyday: The First 5000 Days 
A piece of digital art known as Everyday: The First 5000 Days is created by Mike Winkelmann aka Beeple. The artwork that refers to a collage of 5,000 Beeple's earlier creations was sold for a jaw-dropping price of $69.3 million. 
The most expensive Crypto Punk piece of digital art was purchased for the value of $11.8 million at Sotheby's by an Israeli entrepreneur. Crypto Punks are a set of 10.000-pixel digital art characters created in 2017 by Larva Labs. Crypto Punk #7523 defied all expectations due to the purchasing price. 
In March 2021, a digital artwork presenting an alien with a forward cap, shades and a pipe was sold for the price of $7.56 million 
The popular artist Beeple sold his artwork for the price of $6.6 million at Nifty Gateway, an online marketplace for digital art.  
World Wide Web Source Code 
The founder of the World Wide Web, Sir Tim Berners Lee, decided to sell an NFT presenting the original source code. The artistic representation of the source code was sold for the price of $5.4 million. 
NFTs are taking the crypto market by storm, yet it may be hard to decide where to browse, sell and buy these digital items. Since NFT marketplaces are gateways for trading virtual goods, many people search for a decent NFT marketplace guide to help them make a decision on where to trade, for instance, digital collections, images, videos, and other assets in the form of NFTs. Below you may find a complete NFT marketplace list of the best NFT marketplaces in 2022. 
Launched in 2017, OpenSea is among the biggest NFT marketplaces present-day. It is considered a solid choice for beginners in the crypto world of trade since it is very user-friendly with many options and a large market size. It has the highest trading volume among all active NFT marketplaces. The supported blockchains on OpenSea are Ethereum, Polygon and Klaytn. Apart from the fact that it is centralized, OpenSea does have more pros than cons, especially when it comes to crypto beginners. 
The Axie Infinity marketplace is a global NFT marketplace for the decentralized game Axie that contains around 2 million active users. The marketplace quickly became one of the best and most popular NFT art and gaming marketplaces worldwide. Possible drawbacks are related to Ether and Axie being the only accepted payment method and the existence of commission on sales which makes it expensive for new players to enter. Even though it has many active users, the marketplace is strictly connected to the game so you have to buy three Axies to play the game. Axies are cute digital pets that are used and played with in the Axie Infinity game. 
Rarible can be described as a large NFT marketplace with good connections. Last year the marketplace partnered up with Adobe to make it easier to safeguard and verify metadata for digital assets. The marketplace allows customers to buy and sell digital art, collectibles, in-game assets, and other types of NFTs. On the other hand, Rarible charges a 2.5% fee on each transaction, along with gas fees. An interesting fact about this NFT marketplace is that it has its own token known as RARI, and the token holders get to vote on company-related decisions in Rarible's governance system. 
Larva Labs is one of the first and largest NFT marketplaces built on the Ethereum blockchain. It is a place where one can buy the popular line of NFTs, namely Crypto Punks. The user-friendly marketplace doesn't charge any service fees. The Larva Labs marketplace also offers Meebits, 3D characters, and similar gaming and blockchain projects. However, the marketplace contains a limited selection of tokens compared to other large marketplaces. Hence, the target audience includes mainly Crypto Punks fans. 
The NBA Top Shot NFT marketplace is the leading sports marketplace. It offers NFTs that are officially licensed by the NBA and sports memorabilia collections. The marketplace is quite user-friendly as it provides easy sign-up and credit card payment options. However, it has particular cons as well. NFTs are only tradeable in the official marketplace, and the Flow blockchain doesn't contain a large ecosystem such as Ethereum. Even though Flow is an innovative and fast blockchain, being built on such a new ecosystem poses a few challenges. 
The SuperRare NFT marketplace is a high-end digital art online platform that can be easily described as an art gallery. The platform is known to be very selective with NFT submissions and doesn't access memes. That may be an advantage from the investor's point of view since the marketplace focuses on reviewing tokens before making them available for sale. SuperRare's target audience is not broad, along with the fact that they charge 15% the first time a token is sold, and a flat 3% of every transaction. 
Nifty Gateway is a crypto art online marketplace. Currently, the platform allows only some of the most popular digital creators such as Grimes and Beeple. It is a bit technically different from other platforms as it doesn't store purchases in your wallet, yet in an off-site location so that you can buy virtual goods with fiat currency. The platform is extremely selective regarding artists, yet it is considered to be quite user-friendly for crypto beginners. 
Foundation is a popular NFT marketplace due to its auctions. Its interface is user-friendly and suitable for beginners. The cons are that it only accepts ETH payments and contains high commissions compared to others. 
Mintable, built on the Ethereum blockchain, managed quickly to become a popular NFT marketplace. Its advantages are linked to an easy-to-use interface, low transaction fees, gasless minting, and the presence of educational tools for users. The cons are connected to the fact that the platform only supports one blockchain, one crypto wallet, and one cryptocurrency. 
The Theta Drop NFT marketplace offers a genuine selection of NFTs from its partners, including a number of musicians, crypto influencers, sports organizations, and others. It is easy to buy NFTs on the platform since it accepts both card payments and cryptocurrencies. It contains a user-friendly design as well, making it suitable for beginners. The drawbacks are connected to high fees and a limited selection of NFTs. 
The emergence of NFT marketplaces is changing the notion of online economy and transactions by providing a more secure, effective, and independent way for selling, purchasing, or minting NFTs. Key benefits of NFT marketplaces are linked to a higher degree of security and transparency due to the fact that they are built on blockchain technology. The use of smart contracts makes it hard to commit scams. Other significant advantages of such marketplaces are linked to reduced fees compared to traditional marketplaces on the internet, a higher degree of liquidity, increased independence, and decentralization. 
Even though blockchain technology increases security, there isn't a magical level of security. Therefore, NFT marketplaces are vulnerable as well. As technology advances, criminal activities and attacks only become more complex and delicate. Other possible risks regarding purchasing, selling, or minting NFTs are mainly connected to financial risks such as NFTs still being a volatile asset and not quite recognized by legal systems worldwide or not being regulated enough to decrease investment risks. Even though the NFT market experienced a huge boom, it is still in its infancy. However, a lot of circumstances and expert opinions are pointing away from a possible NFT market collapse scenario taking into account the market growth and the fact that advantages clearly outweigh the risks.